Hair Clips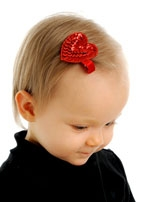 Sweet Princess hair clippies are perfect for sweeping back bangs and are a perfect simple embellishment to wear in front of bigger bows! Our clippies will grasp fine baby hair and are perfect for toddlers and big girls too!

All alligator clips are lined with high quality ribbon and come in a wide variety of colors and styles that are perfect for any occasion or just to accessorize everyday!

Sweet Princess Bowtique....expect the BEST for your little princess!

Click on the categories below to view our HUGE assortment of unique hair clippies!